The Repair, Alteration, and Reconstruction of Tanks and API-653 Repair Scopes
AT&V Inc.'s staff, having participated in the drafting of API-653, is ready to address your API-653 and ASME requirements. AT&V, Inc. has moved tanks, restored tanks, added bottoms and repaired every aspect of a tank or sphere. The repair, alteration and reconstruction of tanks and API-653 repair scopes one of the most common API-653 activities requires the replacement or repair of tank bottoms in 300' diameter and smaller tanks. Leveling and nozzle analysis is also completed as outlined in the API-653 code. Under the API-653 code, AT&V can repair, move, or reconstruct your stainless steel or duplex tank as well as your carbon steel tank.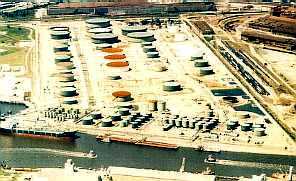 AT&V, Inc. holds the ASME "R" stamp for repair of ASME pressure vessels. This document plus the AT&V quality assurance procedure, audit system and engineering staff can ensure the proper repair of your vessel. AT&V, Inc. supports a strong database of previous repair projects. This data is used to help set schedules and identify options in scope.
API-653 Repair Scopes:
Moving tanks (air, water or mechanical)
Bottom replacement and repair (lap or butted)
Double bottoms w/containment/leak detection
Foundation restoration, HDPE, or claymax
Sunken EFR Repairs
Hardtop conversions for IFR
Shell repairs (fire, movement, wind)
Nozzle inserts
Cone roof structural repair/replacement
Seal replacement/repair
Floating roof replacement/repair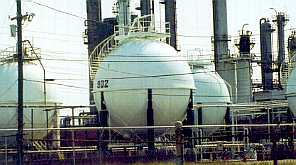 AT&V Inc.'s ability can help in your largest projects involving multiple tank repairs. This project shows covered floating roof conversion work being completed on three 212' Ø API tanks with ASME repair work completed on one vessel, the installation of internal floating roof and seals on a fifth tank, and the reconstruction of one tank which was originally constructed in the early 1900's.
© 2007 American Tank & Vessel. All rights reserved.