Shop Fabricated Vessel Capacity
Schedules - American Tank & Vessel, Inc. maintains some of the best schedules in the industry specializing in critical schedule needs and fast completions.
Pricing - American Tank & Vessel, Inc. provides all services in-house and adapts those capabilities to our field services. AT&V, Inc. provides the highest quality services at the most reasonable price.
AT&V's shop facilities in the U.S. are housed in three locations with two in Mississippi and one in Houston, Tx. The main facility in Lucedale, MS encompasses six different bays, housing fabrication equipment and testing facilities. Large vessels over 14' in diameter are fabricated and shipped out of AT&V's waterfront facility located in Mosspoint, MS. For location and other types of support, Project Managers may utilize fabrication and assembly in the Houston facility. Each of the facilities can be reviewed in detail by going to www.at-v.com and selecting Capacity and selecting Facilities.
AT&V's shop fabricated vessels are supported by in-house abilities to post weld heat treat, perform clean fabrication, form heads, weld overlay, or install refractory. Having constructed more than 300 custom ASME vessels, AT&V has the in-house capacity and track record to meet your most demanding requirements.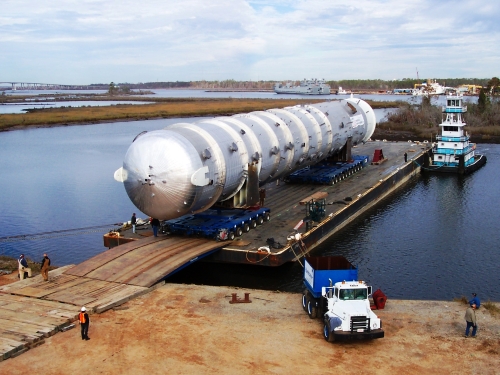 © 2007 American Tank & Vessel. All rights reserved.
General Shop Manufacturing Information
Codes
ASME Section VIII Division 1
ASME Section VIII Division 2
NBIC – "R"
API 650
API 620
API 653
AWWA
Other national and international codes and standards

Transportation Methods
Trucking out of all (3) locations
Vessel Export From AT&V's Waterfront
Rail out of Lucedale and Mosspoint
Barge or ship out of Mosspoint water facility

Areas / Equipment for Fabrication
Over 300,000 sq. ft. under hook
Over 200-acres for lay down staging
Waterfront expansion est. 50,000 sq. ft. in 2008
20,000 sq. ft. machine shop
10,000 sq. ft. maintenance facility
R&D facility
In-house Quality Control Department
In-house Safety Department
In-house Engineering Services
Lucedale plant expansion 2005 not shown
Lucedale plant expansion 2007 not shown
(6) sets of plate rolls
(3) forming presses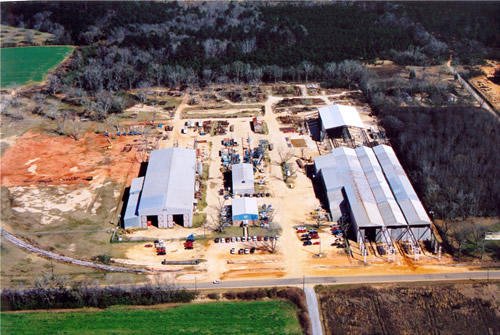 AT&V Lucedale Plant 2004
Thickness Limitations
Liner systems – 1/8" min. – 6" max
Rolled plated - 3/16" min. – 4 ½" max (cold)
Dished or formed plate – 3/16" min. – 7" max (cold)
Welded and radiographic joints – 1/8" min. – 7" max

Max. Lifting Capacity
200 metric tons (in-house)

Max. Vessel Diameter
35' to date – larger diameters may be considered

Max. Length of Vessel
300' - additional length may be considered

Max. Machining Diameter
14'

Max. Thickness for Mechanically Edged Prepped Plate
3"

Material Types
Carbon Steel
Austenitic stainless steel
Clad materials
Duplex
Nickel steel
High alloy nickel
Aluminum
Hastelloy
Inconel
Chrome Moly-Steel
Abrasion Resistant

Non-Destructive Testing
Radiographic (x-ray and gamma-ray)
Magnetic particle dry or wet fluroscent
Liquid penetrant
Ultrasonic
PMI
Hardness testing of different types
Paint inspection testing
NDE for miscellaneous applications
Pneumatic
Hydro
Accoustic Emission


Miscellaneous Information
Full in-house machine shop
Full in-house engineering
For the project that involves a 3/8" wall or 7" wall, please contact your AT&V's representatives to see how the AT&V shop services can meet your needs. With full engineering, fabrication and machine shop facilities, AT&V should have the in-house capacity to meet all your vessel needs.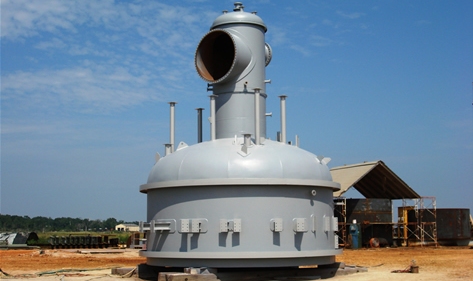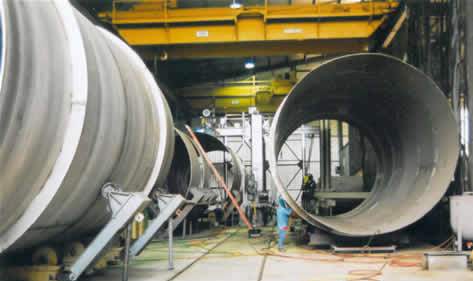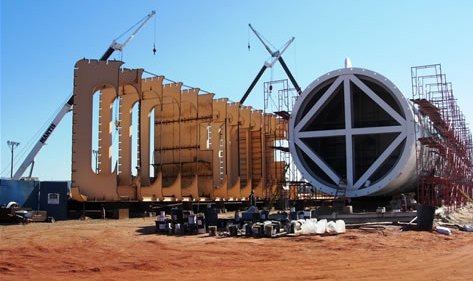 Special Vessel Internals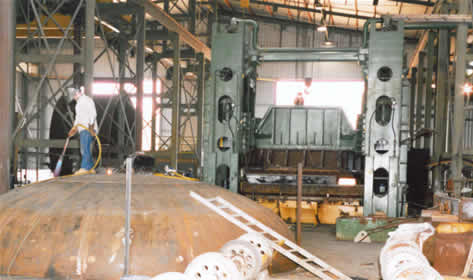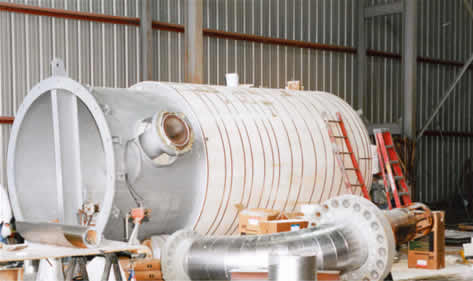 ASME Head Formed by ATV
Background shows ATV's Largest Press
ASME Vessel with Insulation
ASME Reactor Head Section
Heavy Offshore Structure
Stainless ASME and Duplex Vessels
American Tank & Vessel, Inc. offers complete turn-key capabilities for the design, engineering and fabrication of your shop vessels and field erected vessels. AT&V, Inc.'s in-house capabilities include forming, fabrication, welding, normalizing, PWHT, third party radiographic work, testing, lining, and painting.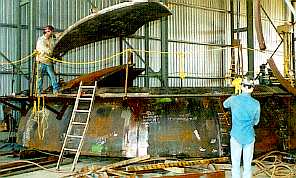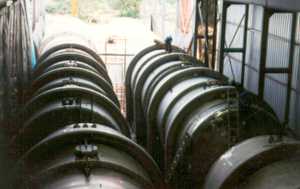 Capacity - American Tank & Vessel, Inc.'s in-house equipment surpasses most in the industry, from our automated welding processes for carbon steel, stainless steel, duplex and alloys to our 6,500 ton hydraulic press capable of cold forming 4" steel plate.
Quality Control - American Tank & Vessel, Inc. assures the highest quality associated with the projects constructed whether they are ASME, API, or other codes. AT&V, Inc.'s in-house QA/QC department follows every step of your project to ensure complete documentation for your code and non-code vessels.
Shop Service - American Tank & Vessel, Inc. provides shop service at the highest industry standards of quality. AT&V, Inc. is able to meet all of your critical schedule needs and perform shop service according to your specifications. AT&V, Inc. provides superior shop service at very competitive prices and our in-house equipment surpasses any in the industry. We can provide a variety of services including overlay work, clad and special alloy work. AT&V, Inc. has full QA/QC capabilities in-house to meet all of your requirements and exacting specifications.